TONNEAU Covers
TONNEAU Covers
Tonneau Covers are a great way to secure and seal the cargo of your pickup truck. They can keep dirt, rain, snow, leaves and other debris out of your truck bed, keeping your cargo safe. Tonneau covers may also come with a lock, effectively turning the bed of your truck into a portable safe. Most tonneau covers will not change the basic shapore or profile of a truck, so you can get utility without giving up style.
Leer
---
700 Series Tonneau Cover
High-Dimension Styling
Trimless, Finished Edges
Optional LEER Keyless Remote
550 Series Tonneau Cover
Low-Profile Styling
Easy No-Drill Installation
LEER Black Powder Coated Billet Lock with O-Ring Weather Seal
Access
---
LORADO
Opens & Closes in Seconds
Low Profile Angled Rails
Slantback® Rear Design
LIMITED
Tite Bite Clamps with D-Rings - Less Than 15 Minutes
XT-Dial™ – Fast Cover Tension Adjusters
Front Element Seal™ + TrailSeal Tailgate Gasket
LITERIDER
Auto Latch + Slide Lock
EZ-Dial™ – Fast Cover Tension Adjusters
Clamp On Install – Less Than 15 Minutes
VANISH
Low Profile – Virtually Flush with Truck Box
2 Slide Locks
Trigger Latch Opening
TONNOSPORT
Most Affordable
Clamp On Install – Less Than 15 Minutes
3 Year Warranty
Truxedo
---
TRUXEDO Lo Pro QT®
Sleek, Low Profile Appearance
Easy Installation & Use
Automatic Tension Control
Free-Floating Hook & Loop System
Easy Trigger Latch
Exclusive Side & Corner Sealing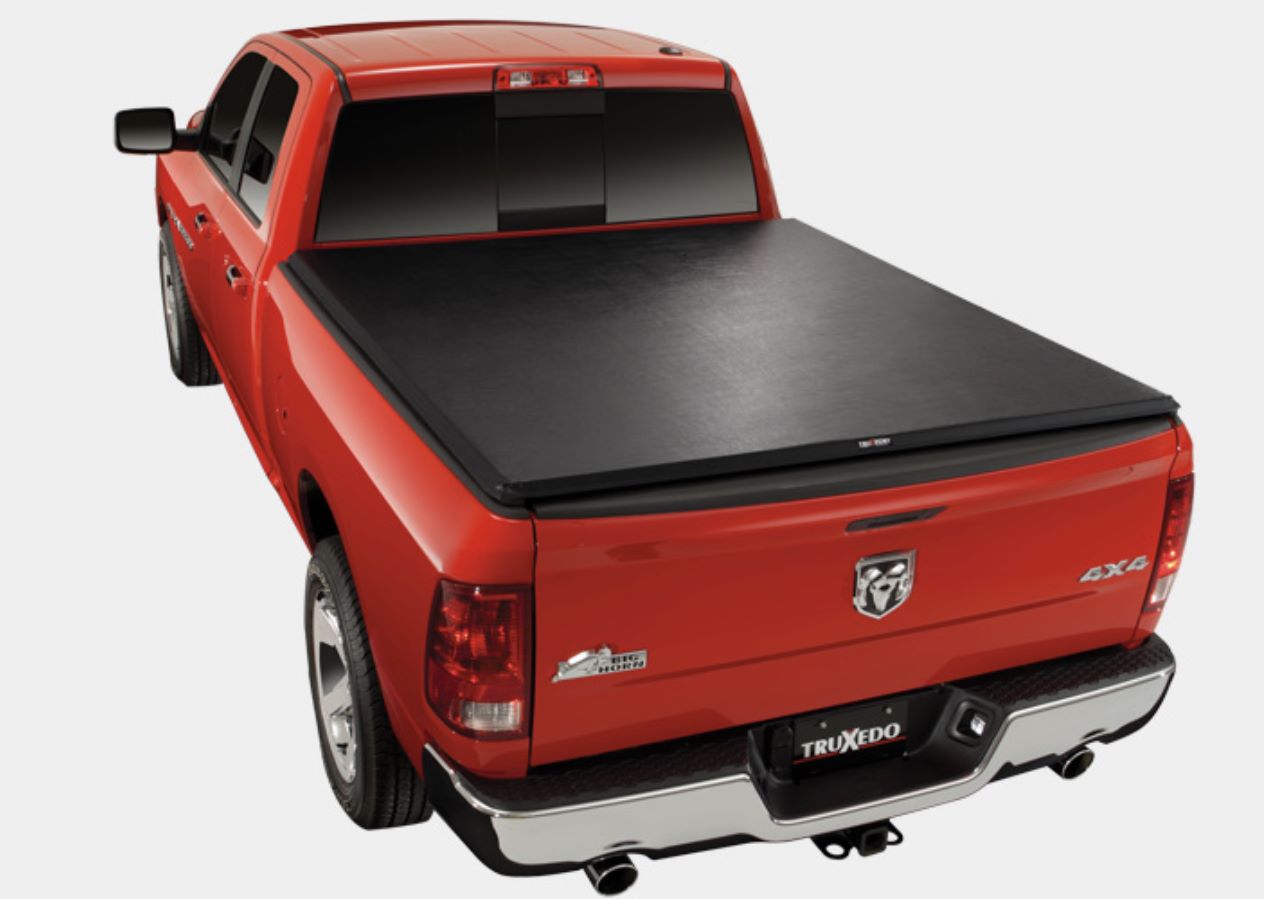 TRUXPORT®
Great Looks
Works Great In All Climates
Fast Installation
Quick One-Person Operation
Pre-Set Tension Control
TRUXEDO® Deuce
Quick Cargo Access
Great Combination
Front Release Latch
Sleek, Low Profile Appearance
Automatic Tension Control
Available in flip up or roll up
Extang
---
SOLID Fold
Extang's all new folding hard lid tonneau cover. Installs in seconds!! No tools required.
Fastest installation and removal of any hard tonneau on the market. Tonneau is completely assembled, no spare parts or tools required.
Ultra strong, yet lightweight!
Extang engineered design, made from aircraft grade aluminum alloy.
Great looking, black textured (poly-tex) paint finish. Provides ultimate protection against harmful UV rays.
Easy to use clamping system (Same as Trifecta). Extremely strong glass-filled nylon construction. Clamps conveniently nest within rails when not in use.
WeatherTuff Seals and unique hinge design keeps water out.
The Solid Fold provides easy and convenient use, great style and cargo security!
TRIFECTA
Extang engineered tri-fold style tonneau cover. Fast, easy, no assembly required. No tools.
Extang engineered with precision. 45º steel corner brackets, commercial grade rails and I-Beam style Monster Bows provide unparalleled strength.
SafetyKlamps: Extremely strong glass-filled nylon construction, will never break. Secure cab section by hand tightening thread clamps with built-in heavy-duty handle.
SpeedKlamps: Rear tail section clamps operate with spring action handle for instant fasten and release. Clamp conveniently stows away inside rail when not in use
MaxHinges: Ultra-strong, rugged, double pivot design made of durable glass-filled nylon and feature protective padding.
Heavy-duty luggage style Hold-Tite fasteners secure the tonneau in the open position at the cab. Provide quick and easy storage when hauling large cargo.
The Trifecta offers two fabric options; traditional heavy-duty commercial grade vinyl, or the new Signature Series with rich looking vinyl-backed black canvas.
Maximum Strength Warranty
REVOLUTION
Extang introduces the next generation of roll up tonneau covers.
Superior Extang Engineering includes an all-weather design, featuring No snaps and No Velcro for a quick & easy open & close.
Ultra low profile provides a stylish, near flush fit.
Multi-directional tension keeps tarp tight and looking great in any climate.
Spring-loaded bows conveniently roll up within tarp when tonneau is not in use.
Pre-drilled side rails for simple clamp placement, and a fast, no-measure install.
Maximum Strength Warranty: Lifetime frame and tarp
Available to fit most popular trucks. See application guide.
Pace Edwards
---
PACE Edwards Switchblade
Small canister size
Easy to install and remove anytime
Allows for full truck bed use
Retracts in seconds
Allows full rear visibility
Installs with a phillips head screw driver and 7/16" wrench
PACE Edwards Jackrabbit
Hard Retractable Tonneau Cover
Padded vinyl polymer adhered to interlocking extruded aluminum panels
Complete Security when Tailgate is locked
Low Profile sleek design sits flush with bed rails
Pull strap glides the cover back and forth
Very easy no drill install on most applications
Fits over 5th wheel trailer hitches
Made in the USA
3 Year warranty
PACE Edwards Full Metal Jackrabbit
Hard Retractable Tonneau Cover
Sleek Low Profile
Tough Black panels and side rails
12" Intermittent locking
Built in Pull strap
Cannister takes up only 1 Foot of bed space
Completely secure when tailgate is locked
No drill install on most applications
Fits over 5th wheel trailer hitches
PACE Edwards Bedlocker
Fully Electric Open/Close with Remote
Hard Retractable Tonneau Cover
Completely Secure when Tailgate is locked
Electromagnetic brake that locks the cover in any position
Sits flush with the bed rails
No Drill install on most trucks in about 1 hour
Tight seal between aluminum panels
Quality black powder-coat finish
Drive system release lever allows operation if power is lost
Fits over 5th wheel trailer hitches