WEATHERGUARD
WEATHERGUARD
From product enhancements to completely new innovations, we're currently developing tomorrow's truck storage systems today with even more security, durability, reliability and organizational solutions.
Take a look at what's new!
NEW Hi-Side Truck Boxes
THERE'S NO STOPPING WEATHER GUARD®.
Even the best can get better. That's why we keep pushing our engineers to top themselves. And so they have. Now our class-leading WEATEHR GUARD® Hi-Side Truck Boxes deliver even greater protection. From the elements. From vandalism. New WEATHER GUARD® Hi-Sides are built to outlast the competition, just like you — hard-working construction pros. Skilled tradespeople. Field service and municipal workers who need quick access to valuable tools, equipment and parts while keeping the truck bed open for supplies. You never stop. Neither do we.
HI-Side Boxes
Industry-Leading Security:
NEW Drill-Resistant Lock Core helps protect against break-ins
Heavy-Duty Three-Point Latching System resists theft and vandalism
Close tolerance door fit resists prying
Unmatched Durability and Reliability:
NEW Gutter design channels rain and snow off box to keep contents dry
Full Weather Seal works with gutter to resist the elements
Large Stainless Steel D-Handle for easy opening, even with gloves on
ARMOR TUF® Powder Coat paint provides years of worry-free service
Heavy-Duty Steel or Diamond Plate Aluminum construction proves rugged in the harshest environments
All Hi-Sides Truck Boxes are backed by an exclusiveLimited Lifetime Warranty
Maximum Organization and Productivity:
NEW Top-Mounted Removable Parts Bin keeps small items organized
NEW Tool-Less Quick-Release Doors adjust from 90 to 180 with QuickClips, no tools required
NEW Rear Attachment Point for securing equipment and supplies in the truck bed
Extra-wide picture frame opening maximizes storage space and provides easy access to larger tools and supplies
Quick installation with adjustable leg mounting, customizable mounting point to maximize bed space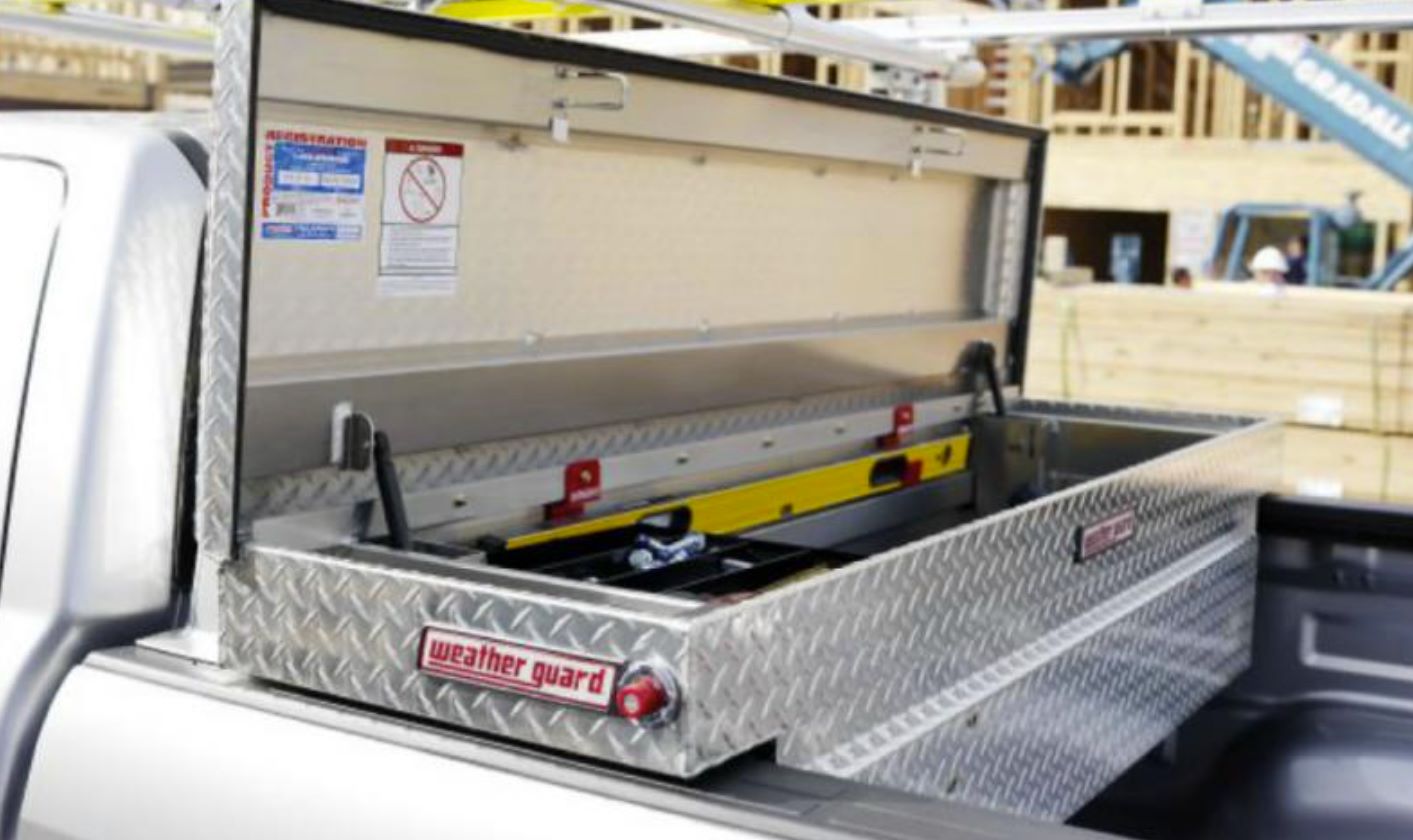 SADDLE Boxes
WEATHER GUARD® truck tool boxes in single-cover style conceals the full-length stainless steel piano hinge and provides easy access for larger, bulkier items. Low-Profile box models feature reduced cover clearance for an unobstructed view.
EXTREME PROTECTION® tamper-resistant retracting lock protects against break-ins
Limited LIFETIME WARRANTY for peace of mind
90° cover opening for easy access
Crimp-free / drill-free install mounting brackets
12V pass-through provides easy, weatherproof power-cord access
Level storage secures 48" level
Full weather seal protects against the elements
Adjustable tray provides storage for small items
Automotive style rotary latch features smooth "one-touch" opening.
Latch linkage protection helps eliminate damage from shifting loads
MATERIAL: Aluminum looks great, withstands weather with a durable ARMOR TUF® clear-coat finish. Steel resists dents and rust with white ARMOR TUF® powder-coat finish.
COLORS: Aluminum diamond plate with Clear or Black ARMOR TUF® Powder Coat; Steel with Brite White or Black ARMOR TUF® Powder Coat
WEATHERGAURD Transfer Tanks
Baffle design reduces fuel movement and provides extra reinforcement.
Lockable and vented filler cap prevents excessive pressure build-up
Full arc-welded construction
Plate steel flange for secure mounting
May be used in combination with WEATHER GUARD saddle or cross truck tool boxes.
Exterior of tanks are protected with Brite White powder coat finish